Appliance
Includes miniature motors, HVAC, and household.
---
Product Name: Switch Post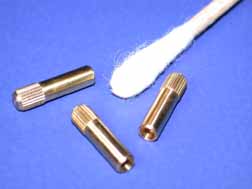 Application: Electrical terminal for a small hand held appliance.
Description: A small brass cylindrical part with a knurl at one end designed to be inserted into a phenolic housing.
Dimensions: 0.500 inch in length with a 0.132 inch diameter over the knurl.
Material: Brass alloy 353.
Tolerances: ± 0.005 inch with more critical dimensions held to ± 0.001 inch.
Finishes: No special finish.
Fabrication: Coil fed Swiss automatic
Special Features: Manufactured for automatic feeding equipment. No burrs allowed anywhere. Also, parts must be free of grease, chips, shavings, oil, grease, and residual cleaning solvents.
---
Product Name: Custom Orifice Plug (Rivet)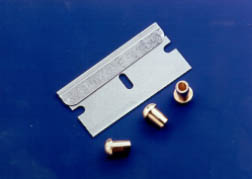 Application: Miniature part used as a gas jet orifice replacement in a heating unit. The existing gas orifice is drilled out with a hole large enough to accept the rivet. Prior to installing the rivet, the head of the rivet is precision drilled to create a new gas orifice with the proper diameter. The rivet is then pressed directly into the old orifice.
Description: A miniature hollow brass rivet with a tapered shaft.
Dimensions: 0.169 inch diameter shaft by 0.315 inch length.
Material: 1/4 inch diameter brass
Tolerances: ± .005 inch.
Finishes: None.
Fabrication: Single spindle Swiss screw machine.
Special Features: No burrs or sharp edges allowed.